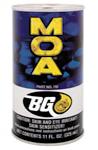 At Mastermind Enterprises we believe the best way to avoid expensive auto repairs is -
to keep up with regular scheduled maintenance.
Most auto owners change their car's oil every 3,000 miles or so, but overlook or are unaware of some important areas of their car's auto service needs. In fact, the most expensive maintenance task is an oil change. At around $35 every 3,000 miles you would spend $350 in oil changes for every 30,000 miles. On the other hand, a transmission service is around $175 and should be done every 30,000 miles. That is only half of what your costs are for oil changes in the same time frame.
Most maintenance items are under $150, that's a lot cheaper than the average auto repair. Let the professionals at Mastermind Enterprises go over or recommend what maintenance items your car needs most.
Mastermind Enterprises features BG Products & Services.
We insist on the best for your vehicle!